Packing manufacturers from around the world recently gathered to get a glimpse of upcoming 2017 metal packaging trends at Luxe Pack New York. The two-day event, held at Pier 92 in Manhattan, is considered by industry experts to be the "premier show for creative packaging." The trade show attracted over 240 vendors from the packing industry to learn about the latest developments in beauty, fragrance and other commodities that use attractive packaging for marketing. Here's a breakdown of packaging trends to look for in the coming year.
Mass Personalization
One of the biggest shifts in retail will be toward customized products and experiences. A SONAR™ survey found that 66% of Americans between the ages of 18 and 34, along with 62% of UK millennials said they favored visiting physical stores with interactive experiences and customized products. Another survey, conducted by Deloitte, reported that 43% of 16–24 year olds and 46% of 25–30 year olds were interested in personalized goods and services. Furthermore, over 71% said they were willing to pay a premium price for these items.
So what can packing companies learn from this data? Most importantly, personalization is a growing wave in the market. The cosmetic packaging industry is already finding new attractive ways to package products such as niche fragrance, skincare and other beauty products. Metal packaging trends indicate that material such as tinplate and aluminum are leading the way toward sustainable choices, as manufacturers and consumers grow more concerned about protecting the environment. These durable yet flexible choices are sustainable because they can be easily recycled and reused.
Digital Print and Globalization
On the rise are digital printers, which can generate cost efficient mass print runs, using machines such as the HP Indigo digital printer. Personalized prints have an additional built in value, since they motivate individuals to promote this modern technology. The beauty of digital printing is that its possibilities go way beyond printing on paper and plastic. Raw materials that can be used for printed products include glass bottles to simulate other raw materials such as leather and wood. Metals such as tin, aluminum, copper and iron can be used for printing as well.
The fact that digital printers can quickly mass produce products, means that these machines will play a huge role in mass production on a global scale. The combination of digital printers and global business marketing will help define business efficiency for years to come. Metal packaging trends will rely heavily on these two factors, which will cut costs and accelerate production cycles.
Commercialization of Raw Materials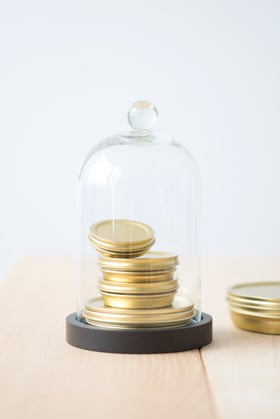 This year's Luxe Pack New York featured an resurgence of raw materials used in packaging. Key materials included wood, stone and ceramics. A few years ago this trend came and went briefly. Going back a decade it simply wasn't on the radar. Manufacturers have been inspired by cap droppers and bottles and are looking for materials to take this packaging to the next level. Wood is a material they are using to create a more organic effect. Some of the standout exhibits at the trade show included wood packaging from Pujolasos of Spain and the ceramic fragrance diffuser At Home, made by Quality Resourcing Services from the United States.
How do metal packaging trends fit into this dynamic? It's very likely that tinplate and aluminum will be leading forms of packaging more and more as the decade unfolds. Even if these materials are being overshadowed by more earthy materials at trade shows, aluminum in particular is hard to beat as a packaging material. Aluminum simply has more universal utility than most packing materials, as it is lightweight yet can outlast many other raw materials.
Booming Niche Brands
Small independent brands stole the spotlight at this year's Luxe Pack, while bigger names fell into the shadows. In fact, some experts noted that indie brands were starting to become the norm as far as creative designs for packaging manufacturers. One of the more high profile indie brands was Tyra Banks' Tyra Beauty. The product line launched in October 2014 and now has over 14 different products on the market. Another example of an emerging startup that the packaging industry is closely watching is Rodan + Fields, which began in 2002 and rose to earning over $625 million in revenue by 2015.
Niche beauty brands such as Lilah B are capitalizing on creative shapes in their packaging. The cosmetic brand was founded in 2015 with the goal to "make beauty simple," expressing a fun, minimalist streamlined appearance. Its pebble container has captured attention with consumers moving toward an appreciation for nature. It's another example of how nature is influencing packaging, which may inevitably challenge metal packaging trends in the next decade. Metal will still be competitive, but the challenge is now to merge with the nature meets technology aesthetic.
Metallic and Colorful Interior Design
Pastel shades of pink and blue will be giving way to jewel tones that reflect sparkling metals and interstellar themes. Modern space age ambiance will be highlighted by minerals with a modern effect such as raw-cut quartz. Materials that will add brighter tones will include transparent fabrics, floaty silks and sheers.
Copper and rose gold are quickly fading as interior design materials, although they will likely always be somewhat in style due its attractiveness. Cheap, shiny imitation copper has reached its peak in terms of market saturation, as experts expect a more industrial look to overshadow it. Warm metals such as brass will also remain in vogue, but by 2017 the trend will shift to a more polished look such as black steel, according to Freedom Senior Interior Decorator Diane Cocksey.
Another emerging trend in interior design is organic matter, such as a mix of concrete and steel. This combination reflects a balance between nature and industrialization. The integration of modern design with wilderness elements helps generate a relaxing atmosphere. Here are some examples of what's in store for colorful enhancement of structures attracting eye-catching interior beauty:
dark green
mushroom and ochre tints
sandstone splashes
terracotta pinks
nature-oriented fabric patterns
Conclusion
Consumers lean toward all digitally processed products that are manufactured at high speed. At the same time, consumers want to slow down and appreciate nature more. Metal packaging trends continue to evolve in a direction that is in sync with overall consumer demand toward embracing nature, organic matter and scarlet opus. Metallic designs are growing in popularity due to appearance as well as sustainable qualities.
Disclaimer:
The postings in this blog section do not necessarily represent Desjardin's positions, strategies or opinions.
References and Further Reading